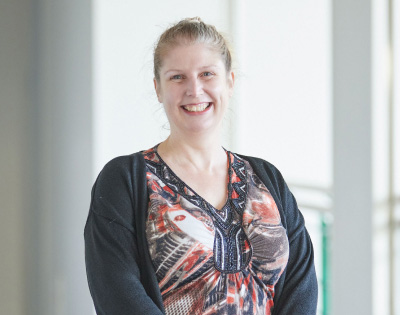 Karen Hunter

English
I want to foster our students' ability to read information in English and think objectively.
There are many different ways of thinking and values in the world, and there is more than one right answer to most questions.
I believe that in order to become global citizens who can play an active role in the international community, it is important that our students acquire the skills to think objectively, without being influenced by emotions or subjectivity, and learn to accept diversity. In order to do this, I try to stimulate students' desire to actively learn a variety of things by presenting topics that interest them. For example, in the IB programme, students decide on their own themes, research them, and collate their thoughts into a paper, which I believe is difficult for high school students. In order to solve problems, it is necessary not only to learn facts, but also to have "thinking skills". Even if this process is difficult at first, students will gradually become adept and get used to thinking.
I believe that if students can read various types of information by themselves, think about it and act on it, their range of activities will expand.
I want to improve the communication skills that students need to be future leaders.
Since English is not only a subject but also a tool that is used effectively in the world, our goal is for our students to be completely at ease with the English language. However, what is important is how they communicate using that English. They can achieve things by explaining their vision, inspiring others, and gaining cooperation. Successful leaders around the world have these capabilities and use such skills effectively.
One of the things that is essential for communication is the ability to learn independently.
I believe that it is easier to acquire knowledge and that such knowledge can be beneficially shared with others through having a positive attitude towards self-study, combined with curiosity rather than through compulsory learning. To this end, we value classes that stimulate students' curiosity.
I want our students to improve their communication skills to become leaders of the future.