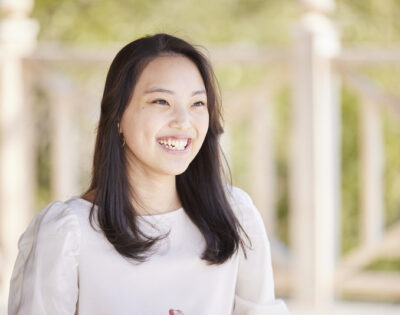 Graduated in 2022
Ririka Kuroki

Currently studying at Penn State University, University Park
Musical Theatre Programme
I gained adaptability and the strength to take on new challenges without fear of making mistakes.
Through the CAS programme and other extracurricular offerings at Linden Hall School, I developed the priceless abilities to think for myself and attempt new endeavours wholeheartedly without being afraid of failure. In addition, I gained the confidence and adaptability to handle dynamic situations.

My two years in the IB programme happened during the corona pandemic. At first glance, this seemed to place many restrictions on what I could do, but I decided to change my mindset and think creatively about what unique opportunities might have been born of the pandemic. Fortunately, I came across online study abroad opportunities at universities in the United States. I completed all of the paperwork myself, and enrolled in three different American universities' online summer programmes throughout my 2 years in the IB. Such experiences cultivated in me a sense of initiative and a can-do attitude no matter the circumstances. During the six months between my graduation from high school and enrolment in an undergraduate degree programme in the United States, I contacted various organisations dealing with political and societal issues in Japan and was excited to obtain a paid summer internship. I also flew to New York to look for an internship during my university studies, and I enjoyed the opportunities to interact with active musicians and theatre professionals.

CAS: A part of the IB programme conducted outside of class hours that encompasses the three elements, Creativity, Activity and Service.
The time management and organisation skills I gained have been invaluable in university.
IB students must read and analyse a great amount of literature and research publications to arrive at sound, logical opinions and write many essays. To thrive in the IB programme, I had to develop strong time management and organisation skills.

Today, I am a performing arts student in university. As I am attending a comprehensive university, I am enrolled in general education, history of the performing arts, and performing arts analysis classes in addition to my acting and music classes. On top of this, I participate in multiple extracurricular activities that my department offers after classes on weekdays and on Saturdays. This means that I get home at about 10pm on most nights. The time management and organisation skills I acquired through the IB programme have proven extremely useful in university, and I believe other Linden Hall School IB programme graduates have had a similar experience. Thanks to the skills I gained in high school, I was able to obtain superior grades during my first semester and even had the honour of receiving the President's Award from my university.